Paracetamol (Calpol®) for Children 0-2 Years Old

Paracetamol (Calpol®) for Children 2-6 Years Old

Paracetamol (Calpol®) for Children 6-12 Years Old

Product

Format

Age

Key Features

Ingredients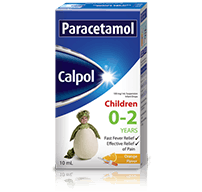 Paracetamol (Calpol®) for Children 0-2 Years Old
Infant Drops Suspension
0-2 Years
Fast & effective relief for fever and pain



Paracetamol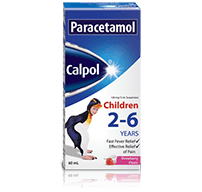 Paracetamol (Calpol®) for Children 2-6 Years Old
Suspension
2-6 Years
Fast & effective relief for fever and pain



Paracetamol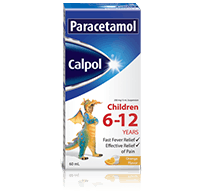 Paracetamol (Calpol®) for Children 6-12 Years Old
Suspension
6-12 Years
Fast & effective relief for fever and pain



Paracetamol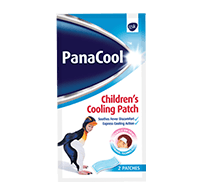 PanaCool Children's Cooling Patch
Children's Cooling Patch
1-12 Years
For express cooling action



L-Methol, Tween 80, Sodium Polyacrylate, Glycerin, Tartaric Acid, Polyviny Alcohol, Sodium Polyacrylate Starch, Propylene Glycol, Methylparaben, Propylparaben, Polyvinylpyrrolidone, FD&C Blue No. 1, Purified Water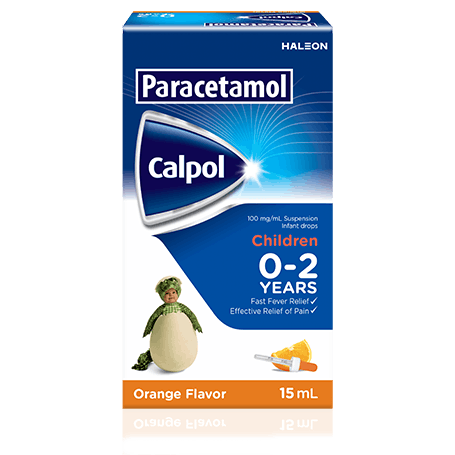 Paracetamol (Calpol) Infant Drops for 0-2 Years Old
Paracetamol (Calpol) starts to work on fever in 15 minutes and is gentle on kids' tummies.
What does it relieve?
Mild to moderate fever and pain associated with:
Fever and pain after Vaccination

Toothache

Headache

Migraine

Muscle ache

Sore throat

Musculoskeletal pain
What's the format?
Paracetamol (Calpol) is an alcohol-free suspension.
100mg/mL Infant Drops Suspension
Directions
For children aged 0-2 years (100mg/mL Suspension Infant Drops)
Oral administration only
Dose may be based on weight or age; use weight if you know it, otherwise use age.
Give every 4-6 hours.
Do not give more than 4 doses in any 24-hour period.
If symptoms persist, consult your doctor.
Paracetamol
Product Leaflet : View
Each mL contains alcohol-free Paracetamol (Calpol), 100 mg Paracetamol.
Contraindications, Precautions, Warnings
Contraindicated in patient with known hypersensitivity to paracetamol, or any other component of the formulation.
Do not take more than the recommended dose as it may cause serious harm to your liver.
Keep out of sight and reach of children.